Since going into business in 1987 (originally as Dale's Hauling Service), we've had the pleasure of stumbling across some truly fascinating stuff people are willing to throw away or looking to recycle or repurpose from an estate clean out. The junk removal business has changed a lot since those days, but for the better. More than ever before, recycling and re-using is at the forefront of what we do every day. We pride ourselves on recycling as much as possible, whether it be old appliances, furniture, construction material and more. Your vintage knick knacks and collectibles are no exception. And if your junk is fascinating enough, we just might feature it in our Cool Finds blog series!
Here are some of the coolest things we've found in the Victoria area recently:
Vietnam Era Army Helmet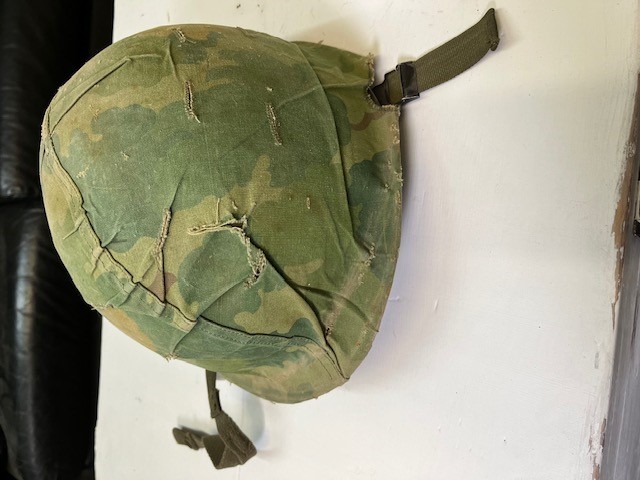 Our first cool find is a vintage army helmet. As it's wrapped in camouflage cloth, it's a little difficult to determine what era we're looking at here, but it's safe to say this helmet is from the Vietnam War era. Judging by the wear and tear, this helmet might've even been battle tested.
Maclean's Magazine from 1982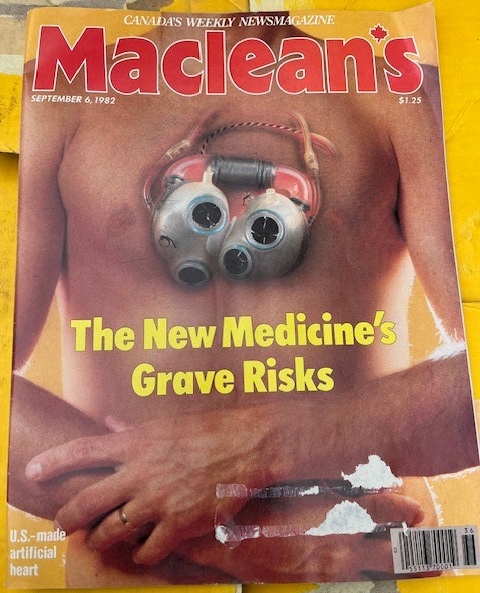 Maclean's is a Canadian news magazine that was founded in 1905. Over the years, they've focused their reporting on politics, science, pop culture and current events. This issue we found is from September of 1982.
On the cover, the issue is featuring a story called 'The New Medicine's Grave Risks', along with what appears to be an artificial heart made in the United States. At this time, the first permanent artificial heart was transplanted into a 61-year old patient at the University of Utah, led by Dr. Willem Kolff. As you can imagine, this made quite a splash in not only the medical field but in the minds of people around the world.
If you open up the September 1982 issue, you'll also find stories about the Turkish Military attaché being murdered in Ottawa by Armenians, a shooting in Takla Lake, BC, and the Nugan Hand Scandal – the story of an Australian-based bank that was laundering money and reportedly close to the CIA, resulting in several deaths and disappearances.
Wartime 50 Caliber Ammunition Box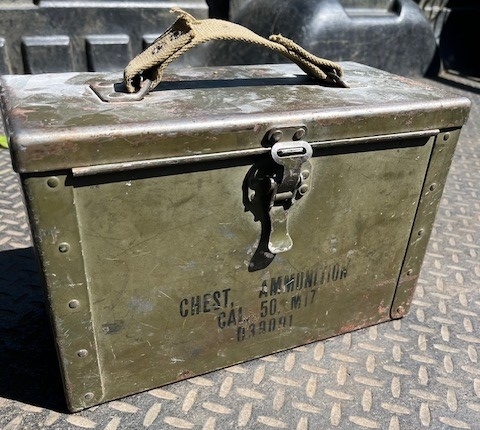 To go along with our vintage army helmet, we also found an old ammunitions box. This old wartime item is likely from the Vietnam War era as well. Judging by the fading black writing on the box, it appears to be 50 caliber ammunitions box for an M17 rifle. While you might not have much use for something like this now, it can certainly be re-purposed into a tool box or cleaned up and turned into a little end table or something of the sort.
Prehistoric VHS Player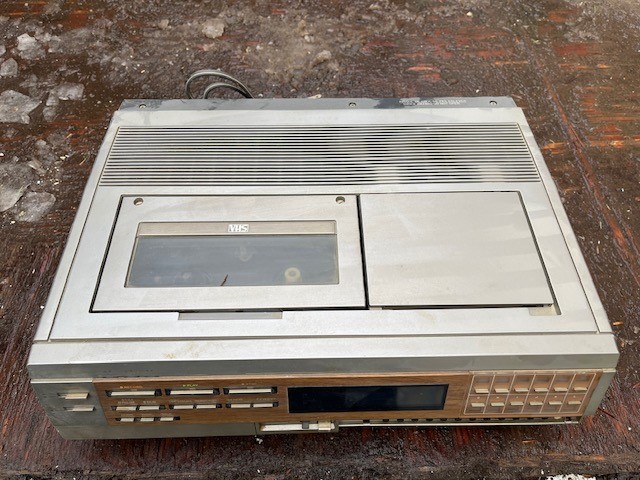 Here we have a magnificent VHS player. While far past its prime, it actually looks to be in decent shape. All it needs is a little dusting and a polish and it might just look good as new. While we can't tell what brand it is, we definitely recognized the faux wood panel on the front. Good times!
More 40-Year Old Magazines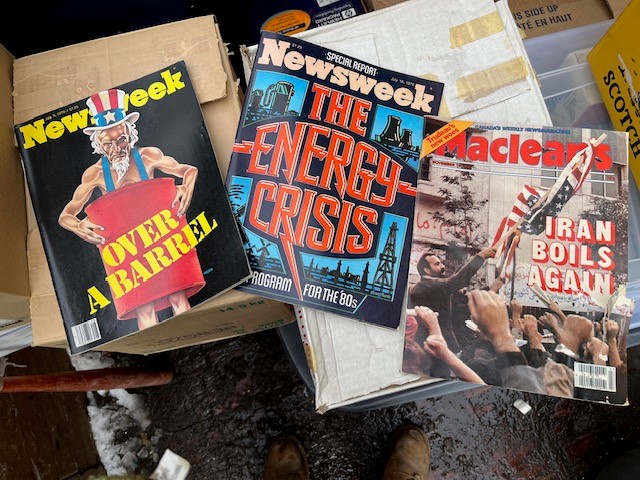 From a separate collection, we found some more old magazines. On the left we have an American-born Newsweek issue from July of 1979, and in the middle is another Newsweek issue also from 1979. As you can tell, the recurring theme of the age was the infamous energy crisis of the 1970s, which was particularly bad in 1973 and 1979. Following the 1970s energy crisis, a large surplus of crude oil was generated because of the falling demand, and oil peaked at US$35 per barrel in 1980. From there, through the 80s, it tumbled down to less than US$10.
On the right we have a Maclean's issue from 1979, with a cover story called 'Iran Boils Again'. This was the same year of the Iran Hostage Crisis, in which 52 American diplomats and citizens were held hostage after a group of armed Iranian college students supporting the Revolution took over the US Embassy in Tehran.
Classic Easy Listening Cassettes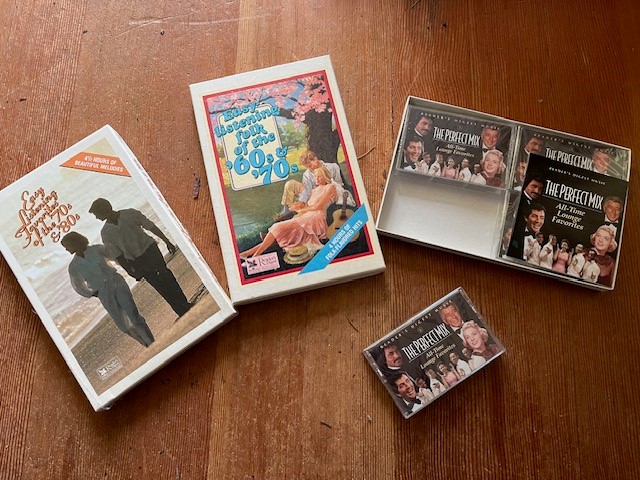 Here we have a nice collection of cassette tapes, ranging from the 1960s-80s. On the left we've got 'Easy Listening Favourites of the 70s & 80s', which includes Jackson Browne, Anne Murray, Andy Gibb and Gordon Lightfoot.
In the middle we've got 'Easy Listening Folk of the 60s & 70s', where we can find Kenny Rogers, Linda Ronstadt, Roger Whittaker and more Anne Murray.
And on the right side we have 'The Perfect Mix: All-Time Lounge Favourites', which features Percy Faith, Tony Bennett, Ella Fitzgerald, Andy Williams and many more.
Old Cocktail Kit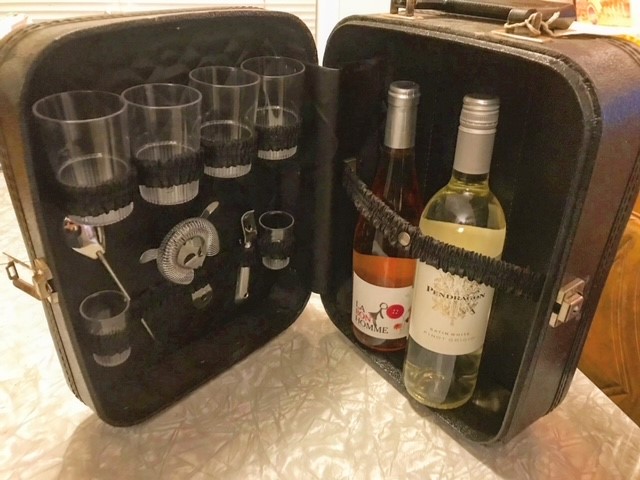 This next item we recovered from someone's property is a beautiful old picnic set for drinks and cocktails. It's completely discreet too. Once you snap it shut it looks like a little briefcase of some sort, perfect for storing all you cocktail making necessities. Judging by the look of this thing, we're guessing it's from the 1960s. So more likely than wine, this case probably would've been used to store whiskey and maybe some ingredients for an Old-Fashioned.
A Very Special Bike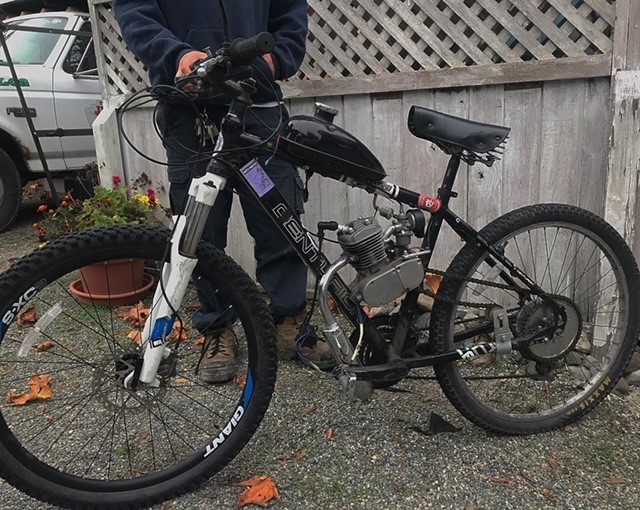 Finally, we arrive at our last item in this edition of our Cool Finds series. What we have here is what looks to be a modified gas-powered bicycle. Apart from being very cool, this little project also has an air of danger to it. This is definitely the kind of scenario you want to make sure your helmet is on for.
If you're in the Victoria area, give The Junk Box a call to help you tidy up your property and give you the peace of mind you deserve. Whether you want to surprise your spouse with a tidy garage or finally deal with the heaping pile of junk in the yard, as a homeowner, there are plenty of good reasons to hire a junk removal service. You can count on The Junk Box for quick, reliable service. Give us a call at 250.658.3944 or contact us online: