Cool Finds: Paper from the Morning After JFK Assassination
After over 3 decades in the junk removal business, we've certainly hauled some weird stuff. We're proud to haul our customers' junk – no matter how weird it is. But if it's interesting enough, we might take some pictures!
We've hauled countless refrigerators, couches, and electronics. But every once in a while, we have the pleasure of finding some really neat stuff.
Recently, we found a Victoria Daily Times newspaper dated November 22nd, 1963 – the morning after President John F. Kennedy was shot dead in Dallas, Texas.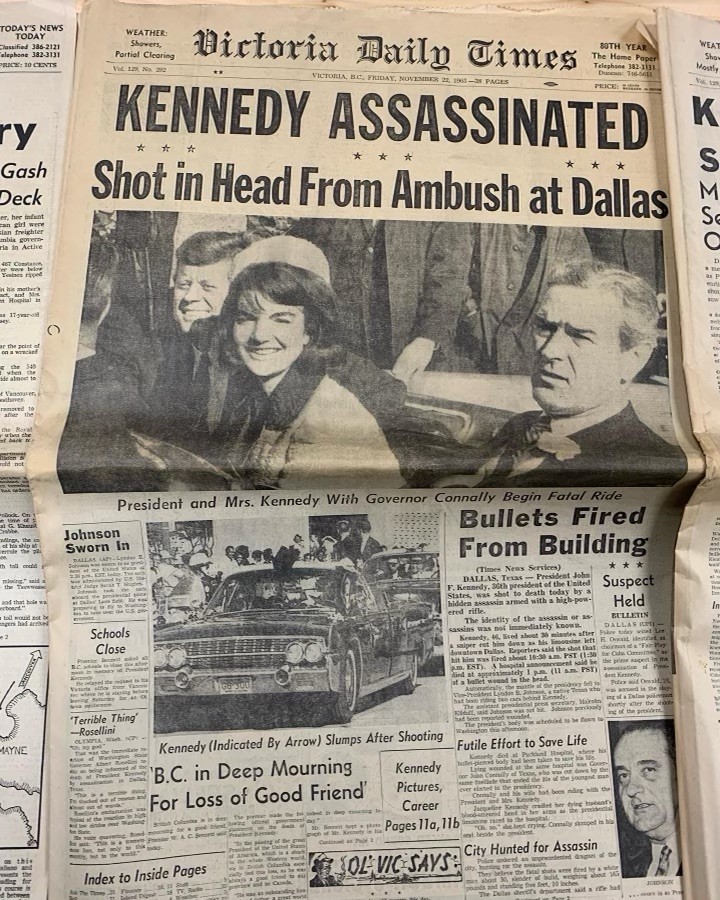 The feature image shows the President, Mrs. Kennedy, and Texas Governor Connally riding in a presidential motorcade through Dealey Plaza in Dallas, with the headline reading "Shot in Head From Ambush at Dallas".
The motorcade was rushed to Parkland Memorial Hospital, where Kennedy was pronounced dead roughly 30 minutes after the shooting. Governor Connally was badly wounded during the attack, but would go on to recover from his injuries.
The assassination sparked worldwide shock and outrage. It was also a confusing time, with the assassination happening during the Cold War. People prayed and watched newscasts from department store windows across the country.
To this day, the JFK assassination lives on in the American psyche, and far as historical events go, the significance of the assassination rivals only that of Pearl Harbour and 9/11.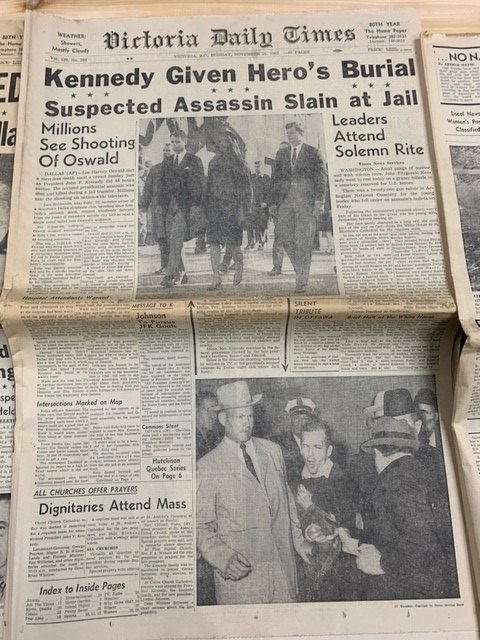 In the next image, there's the headline 'Kennedy Given Hero's Burial', along with a photo. There's also the subheading 'Millions See Shooting Of Oswald'. This subheading refers to Lee Harvey Oswald, the former US Marine who assassinated Kennedy. Oswald was shot and killed in the basement of Dallas Police Headquarters on live television by local nightclub owner Jack Ruby.
Also on the page, there's mention of world leaders and dignitaries attending the Mass and Solemn Rite for Kennedy, after the assassination.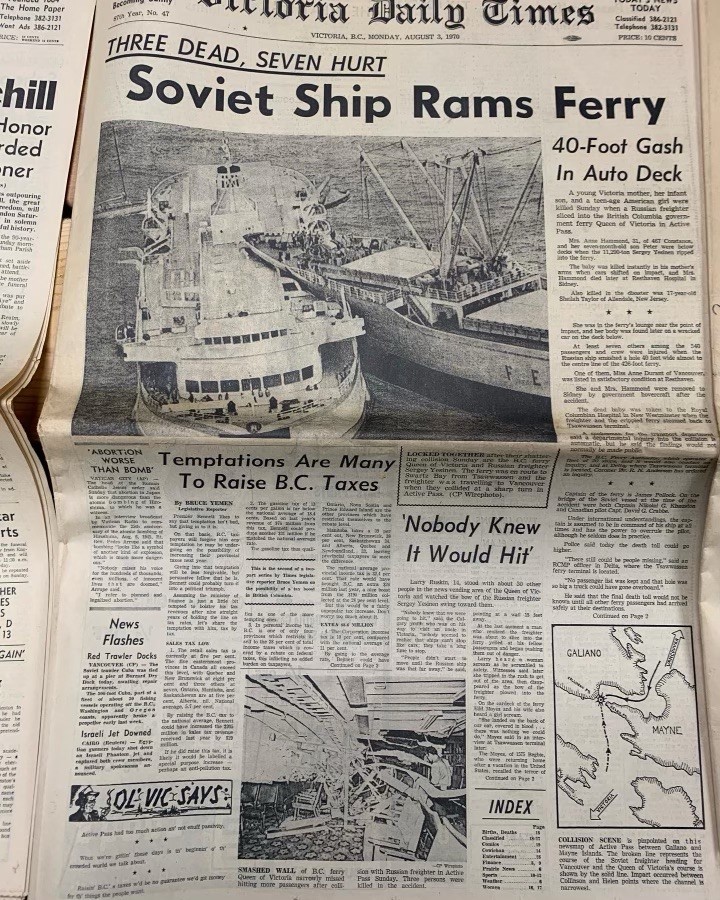 On this page, there's the story of the Soviet freighter that ran into the BC Government's ferry, the Queen of Victoria, in Active Pass. The collision caused three deaths, seven injuries, and a 40-foot gash in the auto deck. There are photos of the damage, the two ships colliding, and the ships route on a map.
Also on the page, we have a subheading fit for the times, 'Abortion Worse Than Bomb', as well as another subheading urging the BC Government to raise taxes.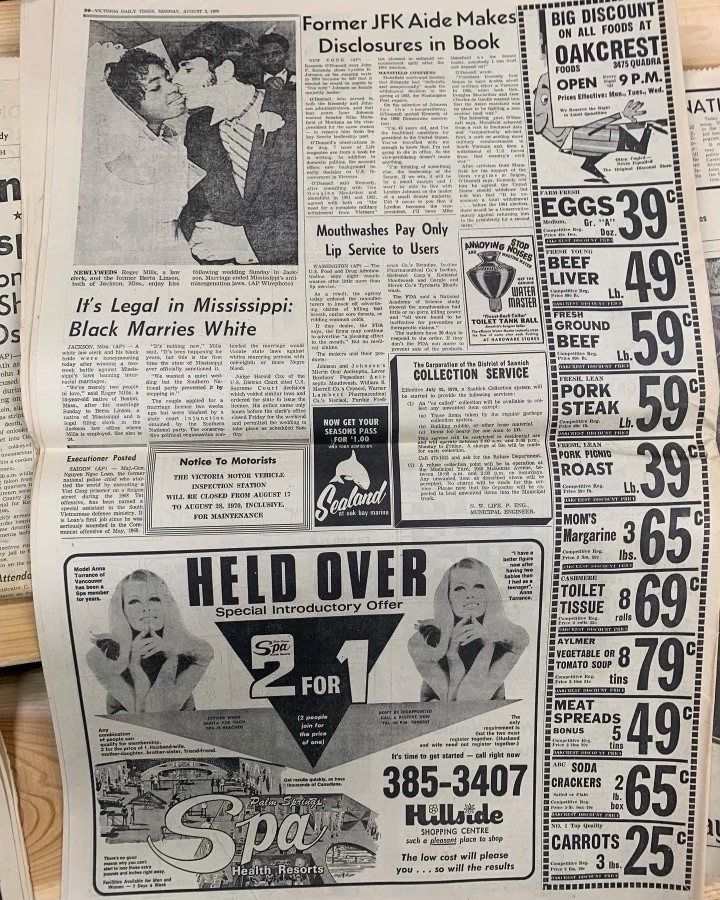 This page will really take you back. On the right side, spanning the entire length of the page, we have an advertisement for Oakcrest Foods on Quadra Street. They've got some big discounts in store, including a dozen eggs for 39 cents, 3 pounds of margarine for 65 cents, an 8-pack of toilet paper for 69 cents, and a pound of ground beef for 59 cents.
On the left side of the page, there's news of a white man marrying a black woman in Mississippi, with a headline reading 'It's Legal in Mississippi: Black Marries White'.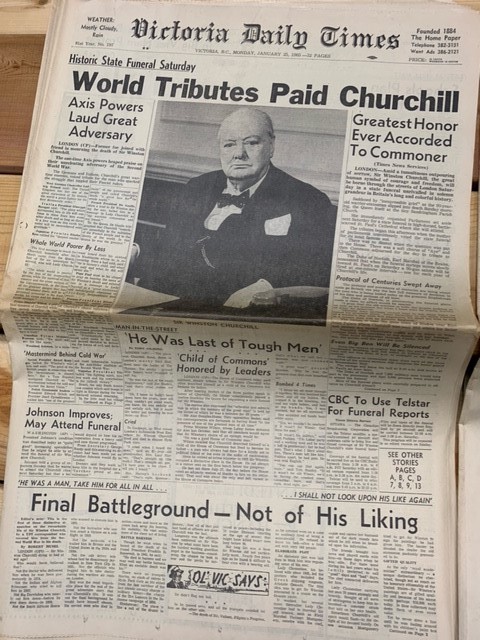 The page of this paper features a big image of a solemn looking, dressed up Winston Churchill, for the story of his historic state funeral. His funeral was the largest state funeral in history, seen by over 350 million people. Politicians and leaders from around the world attended, in order to pay their respects to the war-time leader. Under the photo reads the subheading 'He Was Last of Tough Men'.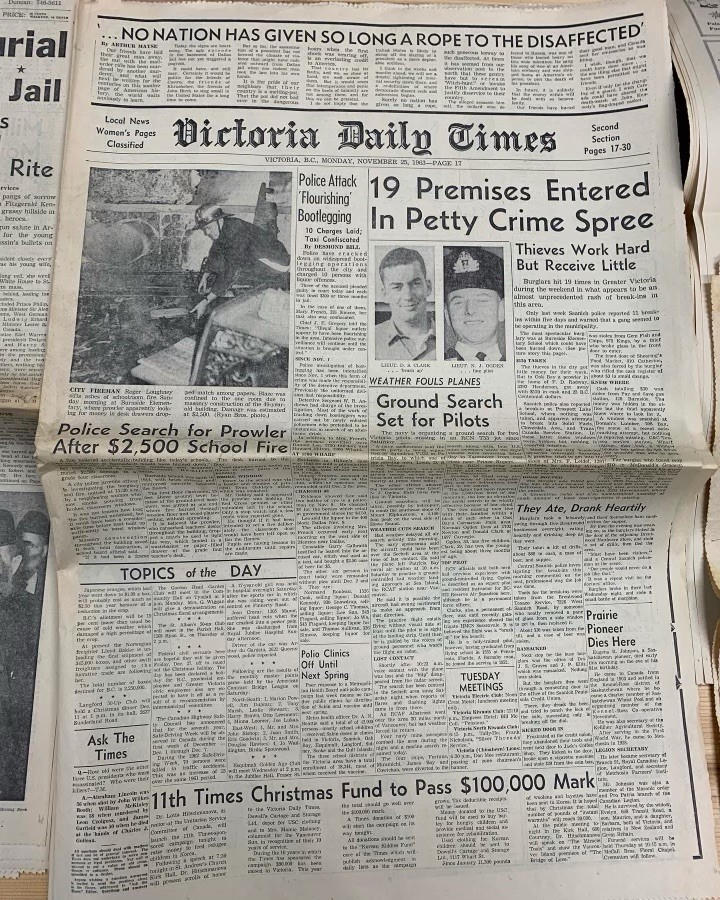 This newspaper page is filled with stories about crime around Victoria. Starting on the left, there's a story about an arsonist who did $2,500 in damage to a local school. There's also a story about Victoria Police attaching a flourishing bootleg operation. Finally, on the right is a story about a petty crime spree where thieves targeted 19 homes but ended up finding very little worth taking.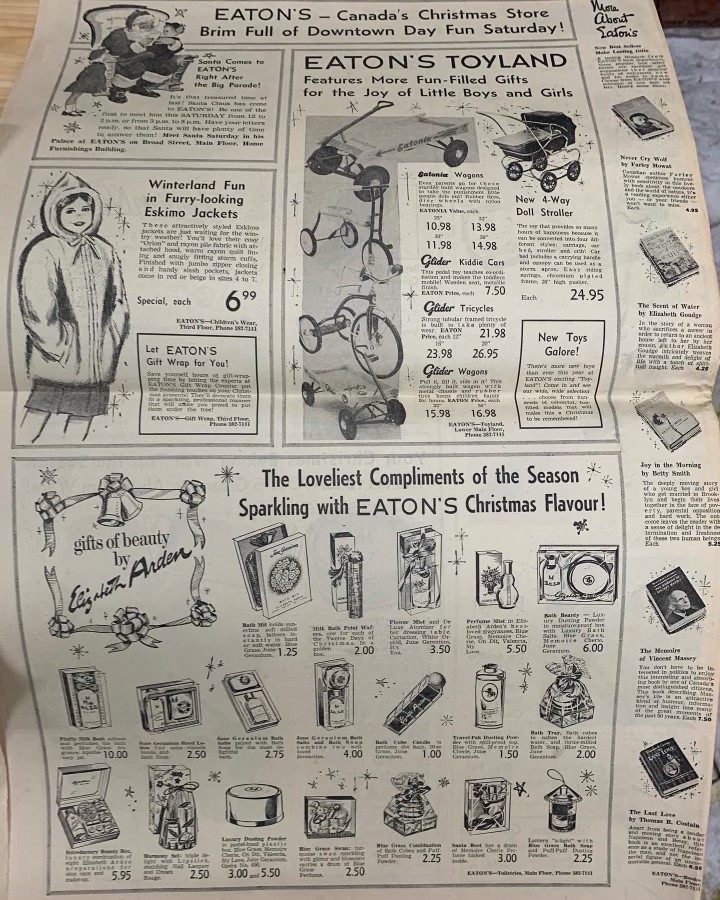 This full page is dedicated to Eaton's another great throwback. Eaton's was a department store in Victoria that used to occupy the building we now know as the Bay Centre. The page appears to feature a full-page Eaton's ad for their Christmas sale. Among the sale items is a 'furry-looking Eskimo jacket' for $6.99, a doll stroller for $24.95, along with multiple little knick-knacks, food items and liquor wrapped in Christmas packaging.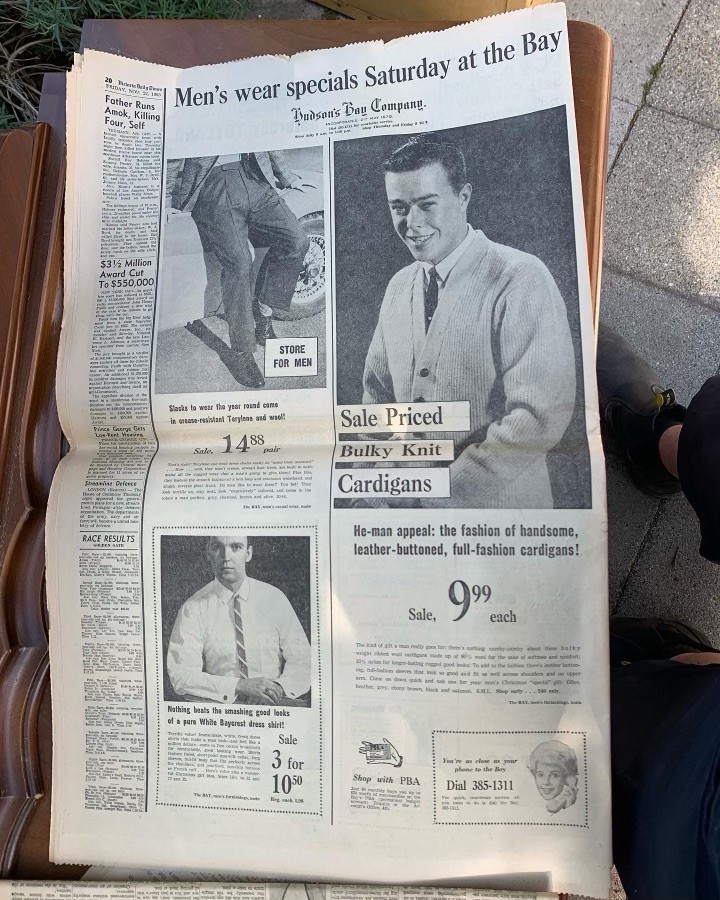 On the 8th and final newspaper page, we see several images of handsomely dressed men. The top of the page features a heading underscored by the name 'Hudson's Bay Company' – known today as just 'The Bay'. In one image, a pair of pants are being advertised at $14.88 above an ad for three white shirts for just $10.50. In another, a bulky knit cardigan is on for $9.99. But the copy beneath the image is even better than the price: 'He-man appeal: the fashion of handsome, leather-buttoned-full-fashion cardigans!'
In our over 30 years of hauling Victoria's junk, this newspaper is one of our most interesting finds. It's a piece of history that somehow managed to survive the garbage can for so many years.
We're a family run business servicing Victoria, Sidney, Langford, Central & North Saanich, Metchosin, the Highlands, and everywhere in between. We haul furniture, mattresses, appliances, yard waste, construction debris, and other miscellaneous junk. If you don't see your items in our list of junk we pick up, don't hesitate to contact us and ask.
If you have some unwanted junk you need gone, give The Junk Box a call. Plus, we'll quote your job for free. Call us at 250-658-3944, or drop us a message and tell us what you need gone.
https://www.thejunkbox.ca/wp-content/uploads/2022/07/kennedy-shot-times-colonist-homepage.jpg
200
400
Junk Box
https://www.thejunkbox.ca/wp-content/uploads/2019/11/logo.png
Junk Box
2022-07-28 11:17:42
2023-07-25 12:37:03
Cool Finds: Paper from the Morning After JFK Assassination